Almost two years ago, I fell on some hard times. I had to move into a Veteran's shelter because I was broke and unemployed. Gina took my baby girl in and took care of her until I picked her up yesterday. The thing is, I only met Gina 10 minutes before she said she would take her in. Gina was a "friend of a friend". I can't begin to tell you how much it meant to me to have "Leela" in a foster home instead of having to take her back to the Humane Society where I got her in 2004. I can't thank Gina enough for opening that big heart of hers for my "Leela". And she did it again with Vito. This woman is just AMAZING.
- Mike Toretch, Escondido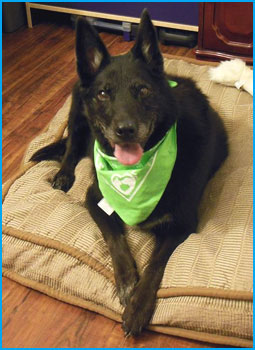 Here's Leela on her bed in my room last night.
---
Our baby "Jegs" is an Austrailian Shepard, very thick undercoat and topcoat. Gina has been grooming Jegs for several years now and he always looks perfect. Gina knows the length based on the season and Jegs is happy to have his coat just right for the time of year. If you want your pet (baby) to be groomed and not have a tangle problem, with your baby happy with his cut, only consider K9 Cleaners.
- Fred Gramcko, Valley Center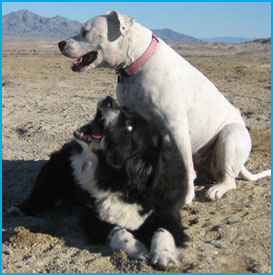 ---
Hi! I'm Miss Sophie, and I have been enjoying the mobile grooming services of "Auntie Gina" with K-9 Cleaners for a few years now. My mom was having trouble getting me to the groomer because of her health and then she found K-9 Cleaners. Now, I have the best of both worlds.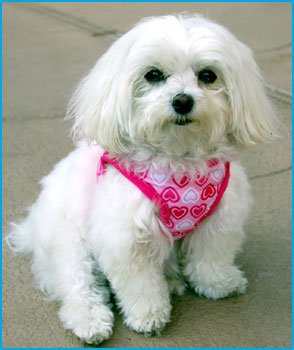 1. I am always as cute as can be with the terrific cuts I get from Gina, which she adjusts according to the weather, cool in the summer, warm in the winter! YAY! Plus all the extra perks, teeth cleaning, nail trimming, clean ears on the inside!!!!
2. My mom is happy and feels much better since she doesn't have to drive and take me somewhere and wait on a groomer's schedule. All she has to do is set my appointments with Auntie Gina, wait for her to show up, (she is always on time), and then cuddle me when I come back from the truck all fresh and fluffy! Plus I also get a cookie after every grooming! Me and my mom LOVE Auntie Gina and K-9 Cleaners. You will too.
- Kathy Jovin, Escondido
Miss Gracie is so much cooler today after her great FURminator Shed-Less grooming she received yesterday by Gina from K-9 Cleaners. I brushed her this morning and hardly any hair came off compared to the mounds of hair she has been shedding all over the house for months. I only wish I had done this sooner. Thank you Gina for a nice experience and convenience!
- Melody Hawthorne, Valley Center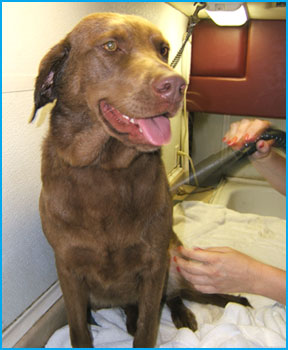 Miss Gracie loved her FURminator treatment...
almost as much as her owner!
---
Gina, I just wanted to thank you for the wonderful grooming and nail trim that you did this past Monday on Sadie. She is so much more comfortable and she has a spring in her step (because you did an outstanding job on her nails). Thank you so much!
- Frank & Monica Furgiuele, Valley Center
---
Gina we just wanted to say thank you for everything... our dogs love you. Scrapy and Taco are the prettiest dogs on the block!
- Sarah Viars, Vista
---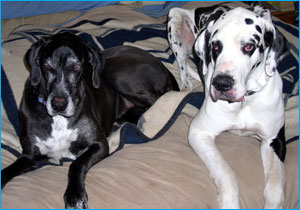 Darby and Dexter (our biggest client so far)
---
Our dog, Kirah, has many self-appointed jobs in our house. Her favorite duty is to run from window to window, barking at other dogs, bunnies, gardeners, just about anything that walks past our house. She is very attuned to things we can't even see. So, it is so much fun to watch Kirah on certain Wednesdays, when she looks out and sees the large van of K-9 cleaners pulling into our driveway. Everything else that she barks at has to do with someone or something else, but NOT THIS! Gina is here just for Kirah. This thrills her, and she just quivers when she sees Gina's van. Once, before we fixed it, she found a way to open our door, and she actually let herself out and ran out to meet Gina; jumped right in, ready to go!
We are happy to see her, too. Gina always arrives with a smile, and has a good, no-nonsense rapport with our dog. Kirah is a Soft-Coated Wheaten Terrier whose hair continually grows and need a good trim about every six weeks. Here, in the land of sunshine and heat, Kirah also needs a close trim to keep cool during the summer, and Gina does a great job of keeping Kirah cool and cute at the same time.
Gina's van is a self-contained mobile salon, with tub, grooming platform and blow dryer. When Kirah jumps in she's excited, and as Gina pulls away, we're excited to have a happy, pretty dog!
- Marsha Peterson, Pauma Valley
---
I used Gina for the first time when Shelby, our 14 yr old Aussy was covered in burs. Gina was caring and so professional with Shelby. Being blind, and with a full winter coat, it was a job for Gina but Shelby came out looking like a puppy again and it did wonders for her self esteem, really! Thanks Gina! You made us all feel great! I will continue to tell all my friends about you!
- Carol DeLessio, Valley Center